This is my first time participating in the Monday Minute. I figure there is no better way to clear up the writers blog than to do a few memes. So today I will be joining in on the Monday Minute.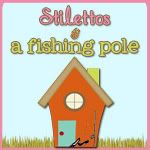 Who was your high school Sweet Heart?
I mostly dated through high school I didn't have anyone serious until my senior year and that was my older brothers friend, I had a crush on him for years and then we started dating.
What is your favorite vegetable to eat?
I love vegetables so its hard for me to pick one I guess it would be artichokes, spinach and potatoes

Do you plan on dressing up for Halloween, if yes, what do you have in mind?
I am trying to talk Loco YaYa into dressing up with me as Lucy and Ethel, we'll see how that goes.
Are you a reality show junkie? If so, what is your guilty pleasure?
Yes I am. I love Top Chef, Big Brother, and when I need a serious break from the real world I watch The Real Housewives and remember how lucky I am to be normal.
and finally
What year did you graduate high school?
1990 I know I know I'm ancient!
Make sure you go visit the Monday Minute Co-host Melissa
and our guest hostess Jessica