I want to start this post of by saying Thank You to all of my new followers. I know that I haven't gotten around the stopping by all of your blogs but I promise that I'm getting there. Things have gotten very busy around here all of the sudden!

I started this blog in the beginning as an outlet. Just a place to talk about my life as a mom, wife, daughter and friend. I wasn't expecting to get anything out of it. I honestly didn't think I had anything to say that anyone would really be that interested in hearing!

But I can say that this blog has given me something I never expected. I have met so many amazing new people. Wonderful, funny, creative people who make me laugh and inspire me every day. It has also opened up some wonderful opportunities that I'm not able to talk about just yet but there will definitely be more details to come soon. So I hope that everyone has a wonderful day and I want to again say HELLO and THANK YOU to all of my followers!!!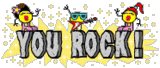 glitter-graphics.com